Since 1984
Customer Service
Wholesale Accounts Only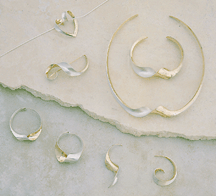 SALES POLICIES
Orders are processed and shipped within two weeks of receipt. Accounts are payable within 30 days when credit references are provided. A 1 appropriate/2% per month charge is attached to any accounts past due.
Current accounts may return merchandise for credit toward new goods within one year of original purchased. Exchanges are limited to stock items only. Discontinued merchandise, special orders or damaged goods will not be accepted. Jewelry which is returned in less than new condition will be subject to a 20% processing and refinishing fee.
Earning matches may be ordered of current designs. And special requests in materials or sizes may be accommodated.
Gerhard unconditionally guarantees all jewelry for any defect in material or workmanship. New jewelry will be repaired or exchanged free of charge. Jewelry in less than new condition will be subject to a $6 repair processing fee. Vermeil jewelry is guaranteed for a period of one year after customer purchase. Please allow 4-6 weeks for repair processing
.
All returns and repairs Must be returned via Ups and insured for the appropriate amount.